Splashes, laughter and applause are common sounds to hear at Sea Lion Splash. With the help of their trainers, Nancy, Stella and Kitty entertain guests with their antics and show off their smarts every day at the Fair! Oftentimes you can catch them sunning themselves on the stage or splashing around in the water.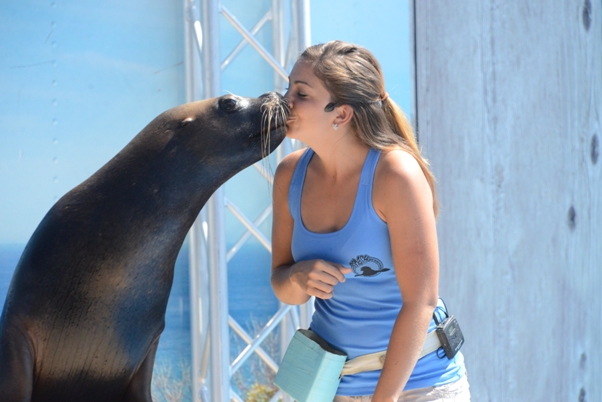 Sea lion love is everywhere at the Fair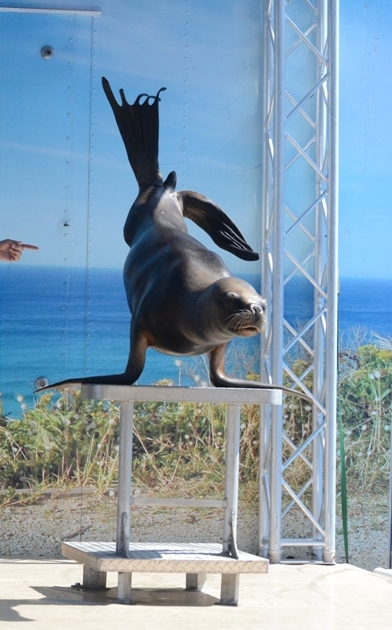 Break dancing at the Fair
Stella and Kitty are seasoned performers but Nancy, only two-years-old is the baby of the family. In fact, Nancy is Stella's daughter! Stella was rescued from the shores of Puerto Rico and gave birth to Nancy in the United States. Nancy is the first South American sea lion born in the United States!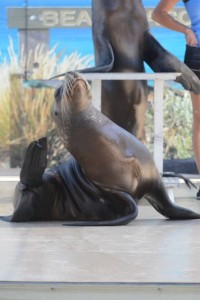 The seals are very territorial. While they trust their trainers with undying devotion, they prefer to keep the stage and their pools to themselves. No sharing for these guys! These three seals live a luxurious life–their trailers have air-conditioned pools, comfy beds and plenty of toys to play with.
Even though these flippery friends dive, swim, flip and smile when their trainers tell them to, they are still wild animals at heart and definitely have minds of their own.
Each sea lion has her own personality and her own way of learning new tricks. Becky, one of the trainers, said that it can take as short as one day to learn a new trick.
You can watch the Sea Lion Splash! show at the L.A. County Fair. It's located right behind the Beneath the Sea exhibit.
Sea Lion Fun Facts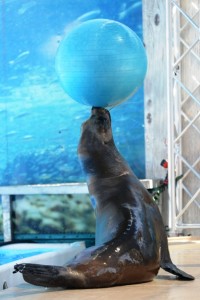 When you see a sea lion balancing a ball on their nose, they are actually using their whiskers to keep the ball up.
Sea lions can sleep both in and out of water, and can dive up to a depth of 1,300 ft., holding their breath for as long as 20 minutes.
All the sea lions at Sea Lion Splash are females.
Sea Lion Splash is the only company in the United States to feature South American sea lions.

The sea lions are one of our favorite parts of the Fair this year so of course we needed to celebrate with a little Hot Blog On A Stick giveaway 🙂
Sea Lion Splash Giveaway
Like the last few giveaways, the Sea Lion Splash giveaway package includes:
4 Fair admission tickets
4 RCS carnival ride passes
4 Hot Blog On A Stick tees
To enter, leave a comment with your top three favorite animals that you see at the Fair. The winner will be announced tomorrow at 12 p.m.
Best of luck to you!