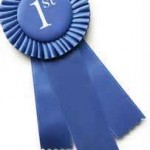 Sure, the Fair is still six months away but it's not too early to be thinking of entering your best cookie or salsa recipe or your best photograph into one of our fun & exciting contests and competitions. Entries are open for all categories in Culinary Styles, Tapestry and America's Kids. You look great in blue (ribbon, that is), so what are you waiting for?
Culinary Styles features preserved foods, baked goods and several specialty categories like cheesecake recipe, all-American pie, BBQ, cupcakes and gourmet grilled cheese sandwiches. Every year the judges have a blast tasting all the goodies, and Fairguests love seeing who runs away with a first place. Deadlines for entry are:
Preserved foods – June 25
Baked goods and other featured contests – Aug. 2
Tablescaping – July 19 (hurry, this one fills up fast!)
Tapestry, which includes jewelry, arts & crafts, needle art and photography, has a June 25 deadline.
America's Kids is themed A Living Library of Fun (part 2) – a continuation of last year's fun adventure where books came to life. Competitions include magic shoes (turn an ordinary pair of shoes into something spectacular), build a model hot air balloon, creative cakes, build a scarecrow, crafts, writing and so much more. Deadline for America's Kids competitions is June 27.
Details, including rules & regulations and entry forms, for all the contests and competitions can be found at lacountyfair.com.
Ok, ready, set – cook and create!