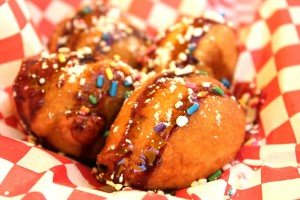 No Fair season would be complete without a blog post dedicated to all things deep-fried! You won't find this much food craziness anywhere outside the Fair and certainly not in any restaurants. It's no secret that Chicken Charlie is the King of all things deep-fried. He has it down to an art form AND a science. Think about it, how do you deep-fry ice cream, keep a warm, battered exterior and a frozen treat on the inside? He does it.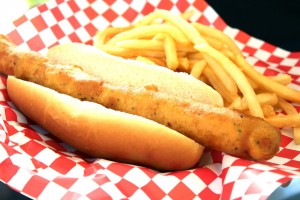 One of our newer items at the Fair are the deep-fried Dodger dogs. This L.A. team made a huge comeback this year, surprising fans and haters alike with a pretty good season! They were even #1 in the National League for awhile! Fans of all ages will remember with fondness stepping into the stadium and cheering on the boys in blue while munching on Dodger Dogs. Thank to Chicken Charlie, new memories can be made at the Fair, bringing a piece of baseball nostalgia to the grounds, deep-fried style.
Deep-fried cookie dough is next on the "must try" list. Talk about a warm, gooey mess! Looking deceptively tame in its powdered sugar cage, the cookie dough bursts forth in a taste of dough, chocolate and yes it oozes and oozes sugary deliciousness. You will definitely want to bring napkins along for this one, but the mess is worth it!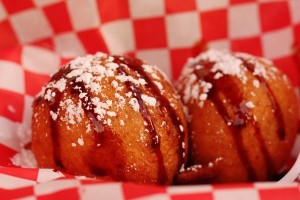 Those are just a few of the foods to try at the Fair. But the list of deep-fried novelties goes on:
Kool-Aid
Twinkies
Frog legs
Peanut butter & jelly
Klondike bars
Cereal
Thin Mints (yes, even Girl Scout cookies)
Pineapple
Spam
Whew! That's one sugar-filled Fair Food Friday! We're sad it's our last one of the season but it has been a blast trying out all the different treats. Which ones were your favorite?