We have a winner! Congratulations Shelley to for being Wednesday's Daily Giveaway recipient! Chicken Charlie's newest creation is deep-fried cereal, along with his deep-fried cookie dough 🙂 We already can't wait to see what he comes up with next year!
Friday is our LAST giveaway for these prize packs but check back later today for a chance to win. Thank you for participating!
We are on Day One of the last week of Fair! If you're still feeling the need for some carnival speed or just haven't gotten around to visiting us yet, the giveaway is a fun way to take a chance and see if you can score two free tickets, two ride passes, food bucks, blog tees and even free parking today!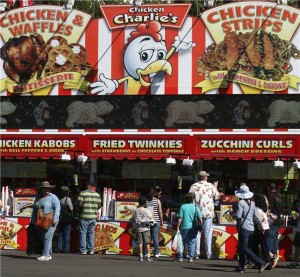 There are plenty of things left to enjoy at the Fair and it's no secret that Chicken Charlie is a well-known staple. For our eighth giveaway we are going to ask a little trivia question about the man and his inventions:
Chicken Charlie introduced two new deep-fried treats to us this year. One was deep-fried cookie dough. What was the second novelty?
Leave your answer in the comment box below. A winner will be selected at the end of the day and will be announced tomorrow morning.
Go, go, go!