We have our second winner! Congratulations to Arturo Serna!!! We hope you enjoy your day at the Fair.
He correctly answered that the Hulk, Iron Man, Captain America, Hawkeye, Black Widow and Thor are the superheroes featured in The Avengers. Many of you also gave a shout-out to Nick Fury and we agree that he definitely deserves a special mention!
Thank you again to everyone who participated. Check back here later today for our third daily giveaway–and yes, it's still the complete prize pack of tickets, ride passes, food bucks and blog tees 🙂
Check back soon!
___________________
It's Day 2 of our Daily Giveaway! Just like yesterday, we are giving away two Fair passes, two ride passes, food bucks and two Hot Blog On A Stick tees to one lucky winner.
Iron Man visited the Fair today, in full costume! Iron Man a.k.a. Tony Stark is, in his own words, a "genius, billionaire, playboy, philanthropist" (The Avengers, 2012). Not to mention a super cool, high-flying, heavy-lifting, brave superhero! He was kind enough to spend some time taking pictures with fans today: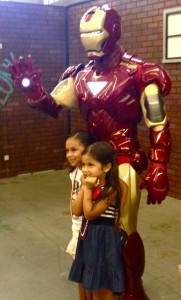 After saying hi to Iron Man I decided this next contest should definitely be an Avengers based one. So here's the question:
Can you name all the superheroes featured in this year's blockbuster smash, The Avengers?
Name them all in the comment box and we will select our next winner (at random) tomorrow! The contest is open until 11:59 p.m. (PST) TONIGHT and the winner will be selected tomorrow afternoon!
Best of luck!