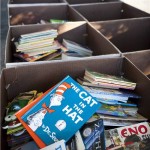 While we are all about fun at the Fair we also know it's important to give back to the communities that mean so much to us.There are several ways we get involved with the community here including The Learning Centers at Fairplex programs, our FairKids Field Trip program and various community events.
There are ways you, as a Fairguest can give back too (and receive Fair tickets!):
–Thoughtful Thursdays: Every Thursday Fairguests have the chance to donate items to a variety of charities. This past Thursday we kicked off with a book drive resulting in over 6,000 donated books! Next week is the School Supply Drive. Click here for more details on Thoughtful Thursdays.
–Blood Drives: This year the Fair is working with the American Red Cross, Cedar Sinai, the City of Hope and Huntington Hospital to produce nine blood drives. We have had five so far, the most recent being this past weekend. The Huntington Hospital Bloodmobile was at the Fair and received 70 pints of donated blood!
–Canned Food Fridays: Friday was the first of 4 canned food Fridays planned for September. Guests brought in 24,372 cans in exchange for free admission noon-6 p.m. The food is donated to Los Angeles Regional Food Bank.
We truly appreciate all the enthusiasm and generosity our guests bring to the Fair. As cheesy as it sounds, we really couldn't pull off these events without you. Thank you!