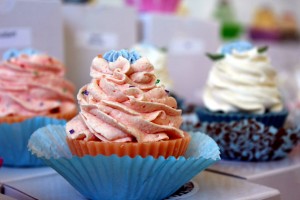 Each weekend a new festival arrives at the Fair. Opening Weekend welcomed Crafter's Village, a marketplace of unique handmade items nestled between the bungee jump and Pets Ahoy.
Of course you'll find the typical mish mash of clothing, accessories and sportswear, all of which are great buys but there were a few vendors that really caught my eye.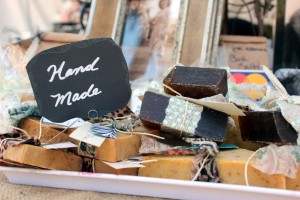 Jezebel's Apothecary, for example, sold lotions, soaps and other skin care items–100% natural! Her ingredients ranged from foods like coconut and flour to berries, herbs and plants. One soap called "Hansel & Gretel" was a mixture of blueberry oatmeal!
Jenny's Gift Shop sold dream catchers and colorful homemade hammocks while Purple Pirate sold jewelry and pure incense. There were over 44 fragrances to choose from, the winner being "Pirate Rum," smelling of tropical bliss. Dewy Flowers sold glass globes with desert gardens inside them.
The Classic Country Goat's Milk Soap tent showcased goat's milk in all


forms including lotions,  soaps and… cupcakes! Owner Suzanne Wilkie noticed the increasing popularity of the sweet treat and decided to swirl the soap into colorful, decorative cupcakes. One soap even combined the goat's milk with beer! The result was a soap cake that not only smelled delicious (more like cinnamon than beer, thankfully) but extremely nutritious for the skin too.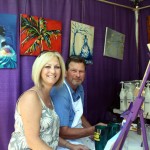 For those looking for a relaxing afternoon, Purple Easel had art classes set up, similar to their store. Guests bring food and drinks to the studio, then relax as an instructor helps them through a painting session. Their booth acted as a mini-version–you bring your Fair food and beer inside, escape from the heat and paint for a spell. Not bad!