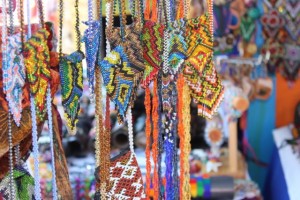 Amongst the flurry of activity going on at the Fair today, Plaza de las Americas has come to life with the Festival Latinoamericano de Arte y Folklore. The festival is going on from today (Sept. 2) until tomorrow and it's jam packed with talented musicians, fun shopping booths and other activities. The Plaza de las Americas stage brings talent from all over South  America including Belize and Guatemala. With acts changing every 20 minutes or so there was plenty of singing and dancing to go around.

I especially loved looking at all the booths–so many colorful blankets, unique jewelry and festive pieces! Guitars, home decor and other items were also on display.
This crafty little ornament caught my attention. The owls are adorable.
There were tons of other fun things to look at. Of course, it didn't hurt that King Taco was right around the corner or that the tantalizing smells coming from the Chuck Wagon filled the air too!