Went out to the Coca-Cola Stage last night to catch Gwen in Doubt, the No Doubt tribute band. And they were awesome! The lead singer looked a lot like Gwen Stefani, so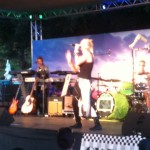 unded amazing and danced all over the stage, even heading into the audience a few times. My photo is blurry but, hey, I was dancing!
We have a long list of great tribute bands that will be playing the Coca-Cola Stage throughout the Fair. Tonight is Purple Reign, Prince tribute band, and tomorrow is Queen Nation (Queen tribute, obviously). Coming up are Beatles, Stevie Wonder, KISS, Van Halen, Journey, Elton John and The Who tributes. We have more – check lacountyfair.com or our mobile app for dates and times.
Now, for a chance to win two any-day tickets to the Fair, what was No Doubt's first hit album and when was it released? Easy peasy mac 'n cheesy. First to respond in the comments section of the blog will receive two tix to the Fair AND a Hot Blog on a Stick T-shirt that I want to see you wearing at the Fair!! Ready, set…no doubt you've already responded.