The casual wine drinker often doesn't realize that some really good, inexpensive wine is produced in the United States – it's not all French and Italian vines that grow the cream of the crop. American-produced wines deserve gold stars. The New York Times recently created a list of 12 Great American wines for $20 or less. Take a look.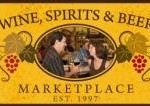 Speaking of great wines, the L.A. County Fair will spotlight some amazing wines at the Wine & Spirits Marketplace. Sniff, swirl and taste some of the finest wines and imbibe on award-winning beer at the Marketplace's wine tasting bar and beer tavern. The wine bar features gold medal-winning wines from the Los Angeles International Wine & Spirits Competition. Wine tasting is $3 per taste or five tastes for $12; three tastes in a souvenir glass for $12; five tastes in a souvenir glass for $15; or enjoy a full glass of wine for $6-$12, depending on the wine. In the Beer Tavern, you can sample three 7-oz beers for $10.
A component of the Los Angeles International Wine, Spirits, Beer and Extra Virgin Olive Oil competitions, the Marketplace presents a wine education program that goes beyond just tastings. Each day of the Fair several wine and extra virgin olive oil classes are offered for the general public to participate in, each presented by experts in their field. Wine classes are $17. EVOO classes are $10. Pre-registration is required; register online at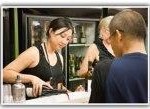 lacountyfair.com. Classes include such topics as Wines of the Central Coast with Adam LaZarre; Gimme Some Sugar! Sweet Wines With Cheese with Michael Jordan; and Saké 101 – Japan and its National Brew with Toshio Ueno. See a complete list of classes here.
Of special note, Playboy Mansion executive chef William Bloxsom-Carter will share his food & beverage secrets, along with some other fun tidbits about working at the Mansion, on Sept. 19.
 OK, two free tickets to the Fair to the first person who responds in the comments section: who was the 2012 honorary chairman of the Los Angeles International Wine & Spirits Competition?