The queen is coming to the Fair!
Well, sort of. Two photos of Queen Elizabeth II have been transformed into full size portraits: one of her coronation and one of her Majesty in present day – made entirely of seeds!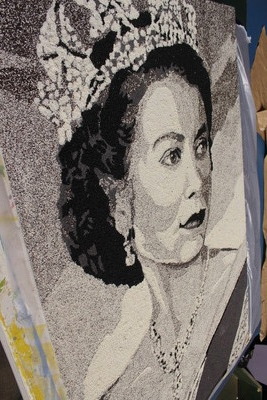 The portraits will be displayed in large frames in Flower & Garden Pavilion as part of the London 2012 exhibit. Exactly how is this masterpiece made? Exhibit coordinator Jim Blythe gives us a first-hand description of what it takes to make the queen's portrait come to life:
First, the photos are selected. Each photo must be high-quality for the most accurate representations. Next, the photo is enlarged to fit the frame and the process is ready to begin. An artist comes and paints over the photo in the colors of the seeds. Then, it's Jim's turn.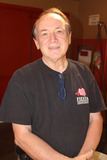 He selects the exact seeds needed for the painting. There are specific recipes to create the colors he wants. The seeds are put into a food blender to create the color needed.
When the seeds are ready to go, Jim meticulously places the seeds where they need to go to create the photo. The process is tedious, taking a minimum of 24 hours to complete. The result, however, is a wonderful representation of Queen Elizabeth II.
About Jim:
Jim Blythe has worked on various floral projects for over 25 years including floats for the Tournament of Roses Parade. His most recent project prior to this year's Fair was a portrait of Elizabeth Taylor, also using seeds as the texture, as part of a float honoring her memory in the 2012 Tournament of Roses parade.