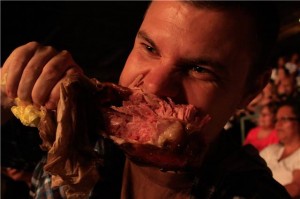 Orange County said good-bye to its share of carnival escapades and fair adventures as the O.C. Fair closed for the summer. Now all the fun is on the road again… to us!
According to Los Angeles Magazine, the O.C. fairgoers had quite the fair feast. They consumed:
3,900 17-inch Big Ribs
7,500 bacon-wrapped turkey legs
9,000 deep-fried PB&Js
10,000 pineapples
60,000 turkey legs
100,000 pieces chocolate-covered bacon
That's a lot of noshing! The real question is, will L.A. County fair guests be able to hold their own and continue the feasting? We sure think so. Challenge accepted.