"I never met a chocolate I didn't like." – Deanna Troi, Star Trek: Next Generation
Me, either. Chocolate is the perfect everything. Like a friend, it consoles. Like fireworks, it ignites nostalgia and patriotism. Like my own personal booster club, it tells me, "Go,Fair-ey Blogster. You can do it!". It gets me through life's bittersweet moments – and the semi-sweet ones, too. And it's the perfect baking companion. Ghirardelli Chocolate and the L.A. County Fair want you to use chocolate's best attributes to make an amazing dessert for the Ghirardelli Chocolate Championship.
Chocolate cake, chocolate mousse, chocolate cupcakes, chocolate brownies, chocolate chip cookies, chocolate … well, fill in the blank. Whatever your chocolate specialty is, sign up to win a blue ribbon and show the world you know chocolate better than they do.
Ghirardelli is celebrating its 160th anniversary and the Fair its 90th. What a great way for you to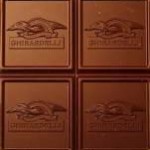 partake in these celebrations – by entering your devilishly delicious dessert. Deadline for entries is Aug. 3. Focus on flavor, creativity and an easy-to-follow recipe. And you must feature a Ghirardelli premium baking product. Make it fun, festive and eye-catching.
Ghirardelli also welcomes you to share the tale behind your treat. Was the recipe passed down through generations (you know, a chip off the ol' block?)? Is it a new twist on a classic? What "wows" your friends and family about it? Your thoughts, stories and memories are all welcome. Check out the Fair's culinary competitions page for entry info and rules & regs. The contest is Sept. 9. First place also wins $150. But, really, is that better than knowing you rule when it comes to chocolate desserts? Well, maybe. Cuz then you can go buy more … chocolate!
And to get your chocolatey thought process rolling, Ghirardelli has offered this tasty
Ghirardelli Rocky Road Cupcakes recipe:
2 cups Ghirardelli 60% Bittersweet Chocolate Chips, divided
8 tablespoons (1 stick) unsalted butter, cut into pieces
1/2 cup plus 2 tablespoons all purpose flour
1/4 teaspoon baking powder
3 large eggs
3/4 cup sugar
1/4 teaspoon salt
1 cup coarsely chopped walnuts
1 cup mini marshmallows
Preheat the oven to 350 degrees with a rack in the lower third. Grease or spray the top surface of the pan with nonstick spray and line the cups with paper liners. In the top of a double boiler or in a heatproof bowl over barely simmering water, melt 1-1/4 cups of the chocolate chips with the butter, stirring frequently until melted and smooth. Remove the chocolate from the heat and let it cool to lukewarm. Meanwhile, in a small bowl, whisk the flour and baking powder together thoroughly. In a large bowl, beat the eggs, sugar, and salt with an electric mixer on high speed for 2 to 3 minutes until the mixture is very pale and thick.  Scrape the warm chocolate over the egg mixture and fold it in with a large rubber spatula.  Sprinkle the flour into the bowl with half of the remaining chocolate chips and half of the walnuts.  Fold just until the ingredients are blended.  Divide the batter evenly among the lined cups.  Sprinkle the tops with marshmallows followed by the remaining walnuts and the remaining chocolate chips. Bake 18 to 20 minutes until the marshmallows are golden brown.  Set the pan on a rack to cool for 5 minutes.  Run the tip of a table knife around the top of each cupcake to detach any melted marshmallow or chocolate from the pan.  Let the cupcakes cool until firm enough to remove from the pan.  Serve warm or at room temperature. Makes 12 cupcakes.