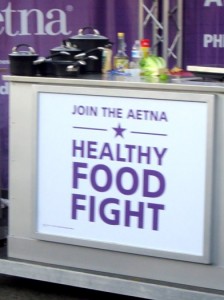 The L.A. County Fair is hosting a food fight. No actual food will be thrown at anyone, but the fierce competition is all about who can be both delicious and healthy. The Aetna Healthy Food Fight is showcasing cooking demonstrations, sweepstakes giveaways and a recipe cook-off before VIP judges right by Yellow Gate.
The cook-off is among three semi-finalists for the region: Edna Davis of Lancaster, Michael Rosenthal of Woodland Hills and Mary Edwards of Long Beach. Edna is making a Sweet and Spicy Italian Sausage Soup, Michael a Orange-Pomegranate Glazed Salmon with Nutty Wheatberry Salad, and Mary a Salmon Pazole. They made it this far through online voting and also had to have a healthy nutrition score of C+ or higher by Aetna in order to qualify. The winner will receive an all-expense-paid trip to New York City to compete in the final cook-off judged by Bobby Flay. The winner of the final cook-off will receive a grand prize of $10,000 worth of groceries donated by Recipe.com.
The contest runs today and tomorrow (our last day!). Check out the other recipes from this region on the Healthy Food Fight.