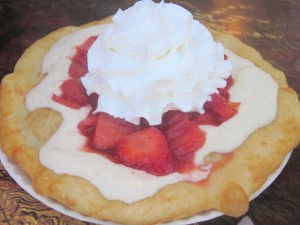 It's our last Fair Food Friday! And my last weekend to eat the perfect fair meal. I've been dreaming about a turkey leg, roasted corn and a big Coke to wash it down. It's simple, but exactly what I want from the Fair!
So far, this weekly posting has mostly covered savory items. For this last blog, we are going to entirely devote ourselves to the best part of every meal—dessert. The Fair really shines in this department, with many quirky and traditional treats. Here are a few you will want to make sure you sample in our last weekend.
Dr. Bob's Handcrafted Ice Cream: Did you know that Dr. Bob's makes their ice cream right here on the fairgrounds? It is some of the best ice cream you will ever have. Flavors include Tahitian Vanilla, Brown Sugar Pecan, Dulce de Leche, Dark Chocolate and many more ingenious combinations. You can get it in the Wine and Spirits Marketplace and over in FairView Farms.
Maple Bacon Donut from Texas Donuts: This is one of our wackier desserts. You might need to develop a spirit of adventure to taste it, but you will not be disappointed.
Funnel Cake: Always a classic. And now they've gotten real fancy with what you can get on it too. I'm a powdered sugar purist, but you might also want to try it topped with strawberries, chocolate sauce, whip cream, honey, cinnamon and more.
Handmade Gelato: It's called Legendary Gelato and we think that fits. You can watch it be made before your eyes. Or just marvel at the stuff piled high and swirled into delicious-looking displays. They also have the world's largest waffle cone (per the sign!).
Shave Ice: Now, we know there are heated battles over which kind of shave ice is the best. Luckily there are several stands at the fair for you to choose, including Hawaiian Shave Ice, Jamaican Shave Ice and just your regular shave ice and sno cones. The funnest part is you customize your own flavor creation.
Indian Fry Bread: This international delicacy is consumed in large quantities by the office staff. Cinnamon sugar and strawberry cheesecake are their most popular flavors, but they've got many more to choose from.
Do you have a favorite dessert at the Fair?