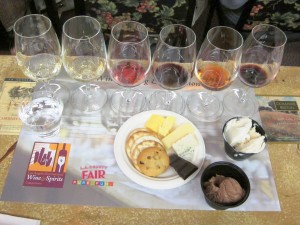 For some reason, when you look at a wine list at most restaurants you only get the choice of one dessert wine. This is a shame because there so many amazing and different dessert wines. From the bubbly Moscato to a rich Port, L.A. International Wine & Spirits Competition judge Mark Newman took us on a tour of some of the best.
Mark first educated us in his "no frills" method of wine tasting. While it seems standard to hold up your wine to the light and inspect for color and clarity, he says this is not necessary. This used to be standard when long ago filtration systems were not as good and you didn't want dirty wine. The real keys to the tasting are smell and taste. Smell is such a key part of tasting that sticking your nose right in the glass is going to give you a much better taste of the wine. Mark also encouraged the class to go after wines they find delicious, not what you are told is good by experts.
In tasting you go from driest to sweetest and lightest to fullest. We started with a Moscato d'Asti by La Badia (my personal favorit!), then to a G. Marquis Riesling Icewine, after that a Brachetto di Acqui by Rosa Regale, then a California Raspberry Wine by Raspberry Regale, next a Rancho de Philo's Triple Cream Sherry (made locally in the Cucamonga Valley!), and last a Petite Sirah Port by Bogle. It also happened to be from least alcohol content to most, generally. The Moscato was about 5.5%, really nice for a low-alcohol brunch. The Port was at 20%, so handle with care!
All were lovely wines and the tasting also used Dr. Bob's ice cream, in vanilla and chocolate and a bar of dark chocolate, along with cheeses. One of everyone's favorite duo was the Raspberry Wine (a pure fruit wine that is syrupy and intense) with the chocolate items. The man next to me suggested pouring the wine over the chocolate ice cream and I'm sure over pancakes or anything else that needs a sweet kick would be great!
This week is your last chance to take one of our fabulous wine education classes! Each class features a minimum of six wines and three cheeses, plus tasting ticket for a Gold Medal Winner at the International Tasting Bar.
Classes you might want to check out this week include:
-Bewitched, Bothered and Bewildered by Beguiling Italian Wines (Thurs., 9/29)
-Sexy, Seductive, Sensuous Sangiovese (Fri, 9/30)
-Wine, Cheese & Chocolate (Sat., 10/1)
-Guess Which Wine? (Sun., 10/2)
A full list of classes and times can be found our website. Cheers!