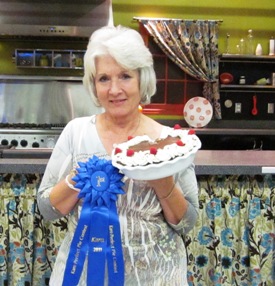 Entrants in the Karo Perfect Pie Contest received their "just desserts" at the L.A. County Fair last night. Patricia Lapiezo of La Mesa and a first-time Karo pie entrant took home first. Patricia made a stunning Touch of Raspberry Double Chocolate Velvet Pie. Her not-so-secret ingredients included a Raspberry Milano Cookie crust and raspberry coffee creamer to give a unique flavor. Ganache was also involved to the delight of the judges.
Frank Szarka of La Habra was awarded second place for his Thanksgiving-inspired Cranberry Cheese Pie. The judges noted that they "loved the fall flavors and the creaminess mixed with the cranberry sauce topping." This was also his first time in the Karo contest.
Lisa Carter of Lakewood won third place for her Southern Skillet Sweet Potato Apple Pie. She made an amazing pecan crust and presented in the skillet. Lisa has won for her cooking at the L.A. County Fair before and her expertise at wowing the judges showed.
The judging criteria for the contest were 25% for taste, 25% for texture, 25% for creativity and 25% for presentation 25%. Karo was generous to provide recipe booklets to all contestants and those watching the judging.