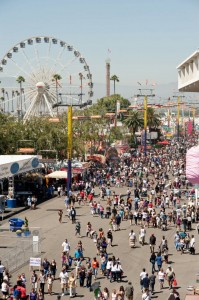 We only have five more days left of the Fair! So crazy. It just seems like yesterday we were putting out pirates in Pets Ahoy!, heaving hay into the barn at FairVeiw Farms, putting the finishing touches on the floral arrangements in the Flower and Garden Pavilion, and warming up the deep fryers in preparation for our guests.
Lots of things are happening next week during our final few days! Make sure to get in on the action.
Check out a concert in our End of Summer Concert Series
Watch some great acts like We are Heroes at the Asian Festival, Friday-Sunday
Do some shopping! It's not too early to be thinking about Christmas. Why not get it all done at the fair with our hundreds of vendors.
Take a wine education class or just sample an award-winning flight
Go bananas in Mojo's Jungle
Take a scenic tour on our Sky Ride
Get up close and personal with the dinosaurs of Jurassic Planet
Eat a giant corn dog
And more!