Hot Dog! One of the Fair's staple foods is corn dogs and hot dogs. But these aren't your average backyard wieners. The Fair always does things bigger and better, and there's no exception here!
Juicys has giant western sausages, cowabunga corn dogs and 1/2 pound hot dogs. They've also got smaller sizes, but that would be boring. They ask you to c'mon in to Juicys  when your "belly button is gnawing at your backbone." Probably a good idea if you are gonna try to woof down one of these big dogs. Also in the crazy-sized corn dog category is Monster Grill. The aptly named "Monster" serves up foot-long corn and hot dogs, as well as a quarter-pound chili dog and its signature half-pound Monster dog. Wrist injuries may occur under the weight of these ginormous dogs, so using a two-hand grip will help.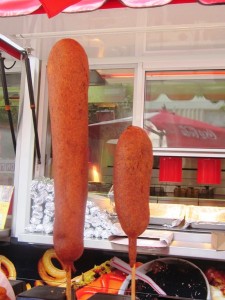 Southern California's famed batter-dipped frank is Hot Dog on a Stick. Always popular with fair goers, even though their size remains the same since 1946, their hand-dipped corn dog is as good as ever. Wash it down with their delicious homemade lemonade. Yum!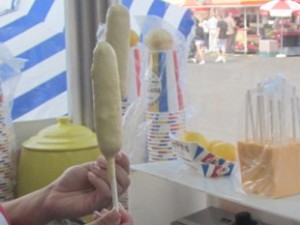 And it wouldn't be L.A. without a little celebrity. Pink's is home to Hollywood hot dogs like the Rosie O'Donnell, Huell Howser and the Mullholland Drive. Their most popular seller at the Fair is the Martha Stewart which is topped with tomatoes, sauerkraut, relish, bacon and sour cream. They also have a special Fair dog, which is special because it's s turkey dog. They've also got veggie dogs for the herbivores out there. Pink's will also make up a dog any way you like.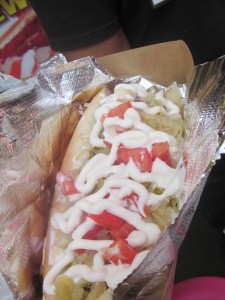 Who wants Fair tickets? According to the National Hot Dog & Sausage Council, about how many hot dogs does each American consume each year? First to answer correctly wins!