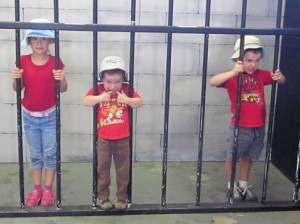 This year's theme for the America's Kids exhibit is Surrounded by Science, which helps kids learn about the science of the everyday in a fun and interactive environment. Visitors to the Surrounded by Science building can test their crime-solving skills in the forensics lab, watch their image never end in the infinity mirror and learn how yeast makes bread rise in the science kitchen. The Bubbling Beaker Stage has daily shows that feature magic potions and more!
Aside from the science, there are great displays from kids across L.A. County. Remember the California Mission project you did in elementary school? We've got some of the best and most detailed mission displays. There also some crazy and clever collections, curated by kids! My Little Ponies, Japanese erasers, Pez dispensers and Cars are just a few of the fun groupings.
Check out the amazing kid creations and scientific discoveries every day the Fair is open!