This weekend, our stages are packed with some really great acts! Plus, many are free with Fair admission. Check out these entertaining items this weekend at the Fair: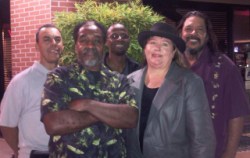 A Little On The Side
What sets A Little On The Side apart from the average bar band? Their broad repertoire of music not widely covered by others including music from such famous artists as Grover Washington Jr., Tower of Power, Earth Wind & Fire, Kool & The Gang, Rick James and Marvin Gaye.
Feel the rhythm and blues Friday, September 23 on the Coca Cola Stage at 7, 8:30, 10 & 11:30 p.m.
GRANDSTAND CONCERTS: END OF SUMMER CONCERT SERIES
We've got quite a lineup this weekend. As always you can buy tickets or try for free general admission tickets once you arrive at the Fair. Tickets are distributed at 3 p.m. by the rose garden and everyone in your party must be present to get a ticket.
Friday, September 23: Tower of Power and AVERAGE WHITE BAND
Melding jazz, funk, rock and soul in a way no other group ever has, the 10-piece Tower of Power is, as a recent Hollywood Reporter review called them, "tighter than a clenched fist." Renowned for the hits, "Pick up the Pieces" and "Cut the Cake," Average White Band has been performing sold-out shows around the world for the last 30 years.
Saturday, September 24: Michael McDonald and Boz Scaggs
Five-time Grammy winner and former member of the Doobie Brothers, Michael McDonald brings his blue-eyed soul and a string of hits to the End of Summer Concert Series. As a member of the Doobie Brothers he had hits like "Minute by Minute" and "What a Fool Believes." With his smash album Silk Degrees, Boz Scaggs became an international sensation, crossing the rock, jazz and R&B genres. He has been playing since the early '70s and he and his band hit the road again in 2011 performing the best known songs of his career—hits like "Lido Shuffle," "Lowdown" and many more.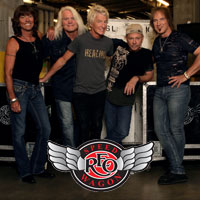 Sunday, September 25: REO Speedwagon & Styx
REO Speedwagon has gone onstage and in the studio and done the work, year after year—dozens of albums, hundreds of concerts, infinite radio spins, performing hits like "Keep on Loving You" and "Can't Fight This Feeling." It's always been for the band, the legacy and a focus on the future. Fans can witness the connection and experience the music that fuels it. Styx hits include the immortalized "Come Sail Away," "Renegade," "Blue Collar Man" and "Fooling Yourself." The group with Tommy Shaw, James "JY" Young, Lawrence Gowan, Todd Sucherman and Ricky Phillips has performed more live since '99 than all of the previous years of its career combined, including two Super Bowl appearances, two more studio albums and no end in sight.
HARVEST OF PRAISE GOSPEL FESTIVAL
The praises will go up and the blessings will come down during the Harvest of Praise Gospel Festival as national and regional gospel recording artists from the World Famous House of Blues Sunday Gospel Brunch present soul-stirring, house-rocking, roof-raisin', soul-saving gospel at its very best!  Check it out Saturday, Sept. 24 at The Coca-Cola Stage, 5 p.m.-midnight.
FAMILY TALENT SHOW
You could witness the next Partridge Family singing a song or father-son magic act. You never know what's going to happen in this show, but it's sure to be entertaining. See the families compete for glory Saturday, Sept. 24 at 2:00 p.m. in America's Kids, Building 10.
HORSE RACING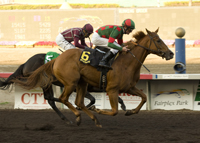 It's our last weekend of horse racing at the Fair! Stop on by and check it out. As always, it's free and free Clubhouse admission. Take advantage of our free video replay screen.
Gates open Friday at 12 p.m. and 10 a.m. Saturday and Sunday. Post time is 1 p.m. More info at http://www.lacountyfair.com/fp/horseracing.