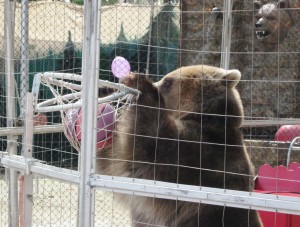 The Weldes certainly know about the bear necessities. They family has been raising bears for 75 years. In the Welde's Big Bear Expedition we see that the bears are incredibly intelligent animals that not only are able to perform tricks, but also hold hands and "kiss" the trainers with a good look. But the Weldes remind us that these are definitely not human, though they may have some human characteristics. They are wild animals, though the Welde's animals are typically young rescues or are descendants of the original bears the family trained.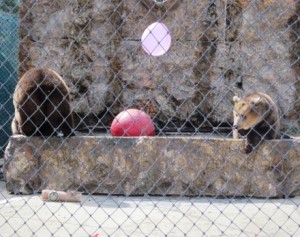 Demonstrating exactly how smart they are were Tootsie and Lucy, three-year-old European brown bears. The girls rolled over, sunk basketballs right into the net and even showed their patriotism by raising an American flag. Their reward? Dog treats and candy corn, and immediately after the show they got to splash around in Grizzly Falls.
Show times vary, so check your fun guide. The shows are free with Fair admission and even if you don't catch a show, you can still head over to Wilderness Ridge and see the Bears playing in Grizzly Falls.