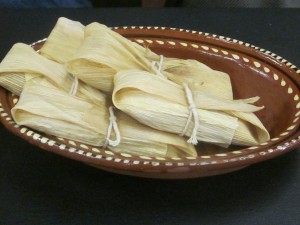 Things are getting pretty international over at Culinary Styles this weekend. Competitors battled to be top in the categories of Tamale, Eggroll, Tabouleh and Hummus. The spread was beautiful and the judges had their work cut out for them. Here's the winners and what they made:
Hummus: Peggy Linberg of Upland
Tabouleh: Heather Moloian of Thousand Oaks
Eggroll: Ernie Ceniceros of Moreno Valley
Enchilada, Beef: Steve Joines of La Verne
Enchilada, Veggie: Gayle Bauer of La Verne
Enchilada, Chicken: Gayle Bauer of La Verne
Tamale: Peggy Linberg of Upland
The sweet tamale Peggy made sounded intriguing, with an apple cranberry filling. Her hummus was creamy and spiced perfectly, wowing the judges. It was creativity that counted for Steve, whose ground beef enchilada included a pumpkin filling and pumpkin cream sauce. Ernie's eggroll was stuffed with shrimp and crab then crusted with coconut and macadamia nut on the outside. Gayle's veggie and chicken enchiladas had perfect tortilla thickness and were paired with great sauce.
Congrats to all our winners!