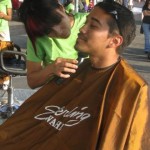 The livestock won't be all that's on display at the Fair this weekend. Guys will be showing off fresh chops thanks to master barbers from Wahl. Guys can get FREE facial hair trims, shaves and grooming tips thanks to a 30-foot mobile barbershop at the Fair, here through Sunday. The effort is part of a nationwide tour to show guys how to put their best face forward. And looking good supports a good cause. For every trim, Wahl will donate $1 to Movember, an organization that raises funds for its two beneficiary partners, the Prostate Cancer Foundation and LIVESTRONG.
The Wahl Barbershop is right next to Yellow Gate – you can't miss it with all the neatly trimmed beards, moustaches and goatees that walk out. By early evening today, more than 50 fellas had taken advantage of the stylists. Wahl representative Justin Patricoff said the mobile barbershop is using the newest and finest of Wahl products – Lithium Ion grooming tools. These new tools offer three times the run time and two times the torque.
Besides getting your facial hair styled and helping out Movember, you can have your photo taken and posted on wahlnation.com and have family and friends vote for you for the best facial hair.