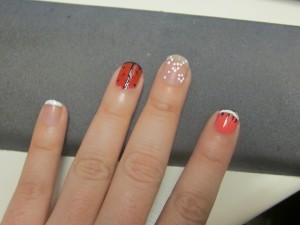 Aside from the fun of the carnival, great concerts, educational exhibits and cuddly animals, we also have great shopping with amazing products from around the world. The products include everything from the practical to the incredible. The two highlighted today are fashionable—one that's creative and the other that's doing good in Africa.
Nail art is all the rage right now. And you can get in on the trend with the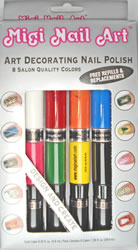 Migi Nail Art booth at the Fair. Migi manicurist Angelica was kind enough to do a demo on my nails. She said it may look hard to do, but is all dots and lines. Easy enough for someone with low art skills (like me!) to do.
There are three different packs of colors and each comes with eight colors. The packs run $25 for one or you can get all three for $65. What's also great is you can get free refills for life (you've got to register and pay shipping, though). Migi is located in Buildings 4, 6 and 7. Stop on by for a demo!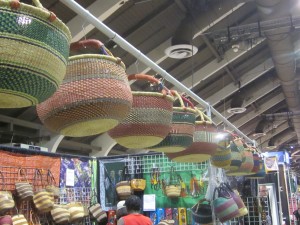 When I walked by the Maendeleo booth it was like I was transported to an African market. That's because Maendeleo (Swahili for progress or stepping forward) is bags, beaded jewelry, painted banana leaves and batiks that are all handmade by hundreds of women in Kenya, Ghana and Tanzania.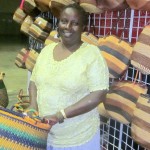 Half the proceeds go back to the women to help them become self sufficient. Mary Ogwel, originally from Kenya, started the business in honor of her mother who wanted to reach women in poverty. Items run anywhere from$5 to $65. Not bad for something handmade!