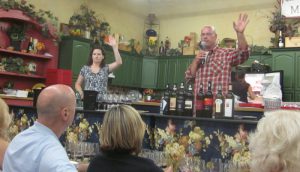 "Any time you see a Sangiovese in the store, think food. It goes well with any food and bold flavors." Got it.
"Morello is just another term for Sangiovese." Check.
"The best wine and cheese pairings are ones paired from the same area as where they both came from." Noted.
Saturday I sat in on the Big Band Red Wine Extravaganza. I scribbled on my notepad furiously to take notes on the wealth of knowledge being shared by winemaker Andrea Francesco Torelli-Lesky and cheese expert Jennifer Ford. Me and about 25 other Fair guests learned the ins and outs of Tuscan wine, how to eat cheese (no seriously) and how the aging process affects the grape.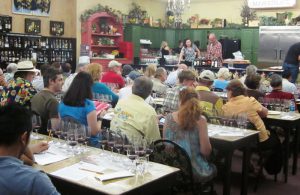 Our task that day was to sip on series of wines made with Sangiovese grapes and see how it changed as it went form Sangiovese to Chianti, to Chianti Classico, to Super Tuscan to Carmignano. Our first four wines were pure varietals… which means there is no oak to "distract" from the taste of the grape. You could tell they were clean. Our last for got a little "fancier," ending with a Super Tuscan (Sangiovese that is blended with wines not native to Tuscany) that included one with roots in the Medici family and the last one—my favorite!—a wine that is the exact same as one that costs hundreds of dollars. You could tell it was worth the price. There were lots of tannins, or bits of chewable goodness according to Andrea.
With our eight wines (our table spaces were full!), we also had six cheeses that were suggested pairings, but were also there for us to see how each cheese affected each wine differently and vice versa. Along the way, Andrea imparted his knowledge. We were told that you handle cheese like wine—look at its color, hold it up to the light, sniff it. You are also supposed to do wine first, then cheese so that the cheese doesn't take over the wine. But after a while I could tell when wine started and cheese began.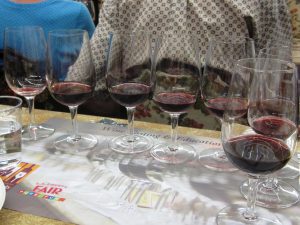 Each class features a minimum of six wines and three cheeses. Participants receive a tasting ticket for a taste of a gold medal winner from the Los Angeles International Wine & Spirits Competition, available at the International Tasting Bar. The cost per class is $17. See a complete list of classes here.