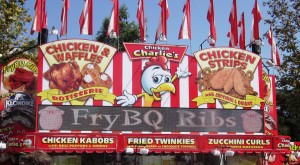 Aside from the wondrous sights and delicious smells, the Fair is an auditory experience to behold. "Hear's" a chance to put your ears to work on your next visit to the fair and win two free tickets! First one to answer the following correctly  wins!
1. What song is playing when the dancing Fry BQ Rib pigs come on the screen at Chicken Charlie's?
2. According to the Sky Ride announcement, how high is the ride?
3. What food vendor sells "lemonade, lemonade and more lemonade"?