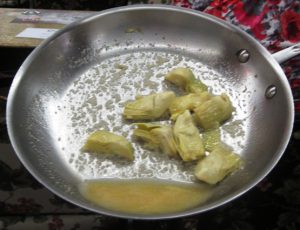 Can you smell the garlic? If you've been in the Wine and Spirits Marketplace during a cooking demo, you probably have. Every Thursday, the Marketplace hosts Chef Henry Gonzalez of Spaggi's Restaurant who will teach you how to cook like a pro. Today Chef Henry taught an eager and hungry crowd how to make a delicious pasta—Penne Vigne.
Chef Henry encouraged his "students" in the audience to experiment with the ingredients—omit the cream, add spinach, add chicken, whatever you want! He said this meal is great for tailgating. The audience was served a sample and everyone agreed it was delicious! The pasta was paired with a Seaglass Riesling from Monterey, CA that took gold in our L.A. International Wine & Spirits competition. You can use any Riesling you prefer.
Ingredients:
1lb penne pasta or your preference
2 oz extra virgin olive oil
4 cloves of sliced garlic
1 shallot diced
1/2 cup white wine
1 cup cream
1/2 cup vegetable or chicken broth (Chef Henry tip: using this will help you cut down on using cream)
1/3 cup julienne sun dried tomatoes
1 bunch of asparagus sliced at an angle
1 cup quartered artichokes
1 cup heavy whipping cream
1tbs of butter
2 oz parmesan cheese shredded
1 pinch kosher salt
2 pinches white pepper
Directions: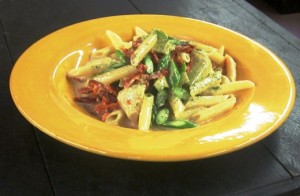 Pre-heat a sauté pan and once heated add your garlic, olive oil and shallots, allowing to sauté for another 2-3 minutes. Next, add artichokes, sautéing for another 2 minutes (Chef Henry says this helps coat the artichoke in the garlic goodness we've created and gives it flavor). Add the white wine and allow the alcohol to cook away—this is called deglazing. Add your broth (Chef Henry says this would be the best time to add any other ingredients of your choice). Then add sun dried tomatoes, kosher salt and pepper. Next add cream and butter and combine your cooked pasta with the sauce. Finally, toss fresh asparagus to the dish. Plate your entree and add Parmesan.
Try the dish at home and let us know what you think! If you want to see more from Chef Henry, you can come down on a Thursday at 1pm to our Wine & Spirits Marketplace or check out his restaurant in Upland.