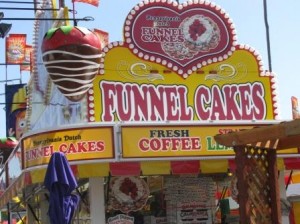 In less than 24 hours, the 89th anniversary L.A. County Fair will lay out the welcome mat for more than one million of our closest friends. We are so excited! This weekend admission is just $1 Saturday, Sunday and Labor Day from 10 a.m. to 1 p.m., 22 oz soft drinks are $1 from 1-4 p.m. and carnival rides and games are $1 from 4-7 p.m. There's no reason for you not to come out this holiday weekend!
The 2011 Fair offers amazing entertainment, fun and educational attractions, fabulous food and great shopping. We have sharks, bears, men and women on the flying trapeze, bungee jumping, dinosaurs and more!
There's also deep-fried Kool Aid, deep-fried caramel apples, Ten Pound Buns, Hot Dog on a Stick, giant Turkey legs, deep-fried Oreos and more!
Check out our Web page for more info on attractions and promotions. See you at the Fair!