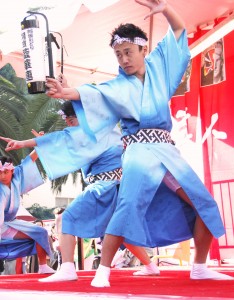 We're ALWAYS down for a party at the Fair. This year we have four cultural "parties," celebrating the unique heritages of Latin America, the Basque region, Ireland and Asia. Each is open for a weekend and will feature great shopping, fun entertainment and amazing ethnic foods. A unique village experience for each festival brings the feel of each cultural community to our larger community.
Festival Latinoamericano de Arte y Folklore will take place Friday, Sept. 3 to Sunday, Sept. 5. It will highlight the arts of Latin America, with artisans from Mexico, Guatemala, El Salvador, Honduras, Nicaragua, Costa Rica, Belize, Panama, Colombia, Venezuela, Ecuador, Peru, Bolivia, Brazil, Uruguay, Paraguay, Chile and Argentina. Fairgoers will also enjoy traditional folk dances and concerts.
Basque Village will be here Friday, Sept. 16 to Sunday, Sept. 18 and will feature the three influencing cultures on the Basque people. Friday will highlight Basque culture including foods like the traditional Basque cake gateau Basque. Saturday showcases French culture with foods like Napoleons and éclairs. Spanish flavor is celebrated Sunday with tapas, paella and Flamenco entertainment.
The Celtic Village opens Friday, Sept. 23 through Sunday, Sept. 25. Fair patrons can revel in the luck and food of the Irish, with traditional favorites like Irish stew in a bread bowl, bangers, fish & chips and corned beef. Sheep-herding demos, traditional and contemporary bands, storytellers, clog and traditional step dancing are just some of the entertainment. There is also an actual Leprechaun available for photos and tips on the best places to hide pots of gold.
Closing the Fair is the Asian Festival, Friday, Sept. 30 to Sunday, Oct. 2. America's Best Dance Crew winner We Are Heroes and American Idol finalist Andrew Garcia will entertain and delight Fair crowds on the Coca-Cola stage.  A Street Market & Night Market theme will bring alive the vibrant Asian market culture at the Festival Plaza. Ethnic food vendors will be on hand, offering authentic Asian and fusion flavors.
All festivals will be held at the Festival Plaza, except for the Festival Latinoamericano de Arte y Folklore, which will be held in Plaza de las Americas. Entrance to all of the festivals is included with fair admission.