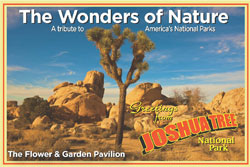 Ever wanted to wander the meadows of Yosemite? Marvel at the Grand Tetons in Wyoming? Behold the ancient trees of the Sequoias? Or relive your vacations to all of these places? You're in luck—the 2011 L.A. County Fair will dazzle and delight you with the flora and fauna of America's national parks at the Flower & Garden Pavilion.
The Wonders of Nature: A Tribute to National Parks will have you traveling through some of America's most treasured sites. From deserts to lush forests, there are a variety of landscapes that will be on display. Of course there will be plenty of plants, trees and vegetation from our national parks, but will also have real wildlife you can see in our new Wildlife Preserve. Meet our birds of prey, visit with the our very own owl Bandit, see Tut the king snake, Rickey the rabbit, Pockets the opossum, and more!
You can visit the exhibit with our guides and get a closer look at what fascinating foliage and animals live in our national parks. You'll see how so many amazing and different species live together.
The Wonders of Nature: A Tribute to National Parks runs throughout the Fair and is open during Fair hours. Entrance is free with admission to the Fair!
Tell us what you think: Which is your favorite national park and why? Respond below for a chance to win a fun Fair prize!