Ahoy, mateys! What's funner than learnin' to sail the high seas with the most fearsome bunch of buccaneers to ever pillage and plunder? Doing it with yer favorite peg-leg pets!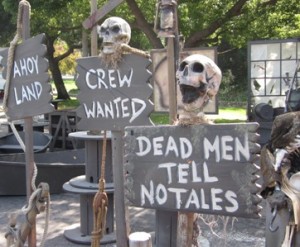 Landlubbers get ready for a voyage to a place where rowdy pirates and a four-legged crew collide at Pets Ahoy. Swashbuckling shows and entertainin' encounters feature dogs, cats, birds and rats that will delight me hearties! Lads and lassies will enjoy seein' death-defying doggie stunts at Pets Overboard. In Buccaneer Boot Camp yer scalawag skills will be tested to see if yer inner pirate will bring home the booty or walk the plank. You'll also be able to make yer own pirating paraphernalia! Performin' acts of piracy are the salty seaman of the Traveling Buccaneers. And buccaneers of a feather stick together in the high flyin' Pirate Bird show!
So raise the Jolly Roger and set your compass due fun as we look for treasure and adventure! The cap'n and his crew will see you there or you may find yourself swimmin' in Davey Jones' Locker.
We want to know…if your pet was a pirate, what would its pirate name be? Tell us for a chance to win a free prize! Send your response to contests@fairplex.com and include your full name and address.