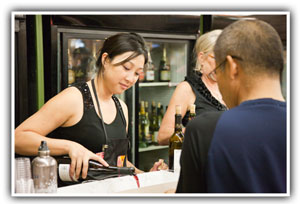 I know you are coming to the Fair. You know you are coming to the Fair. So, how about we take a class? The work in this classroom is work we will enjoy – trust me! Meet me at the Wine & Spirits Marketplace for one (or more!) of the many great wine education classes and seminars available.
Conducted by wine makers, educators, sommeliers and wine writers, the classes range from wine and food pairings to classes on different wine varietals to cooking demonstrations by Chef Henry Gonzalez of Spaggi's Restaurant. Master Sommelier Michael Jordan will host two Internet radio shows on Sept. 9 & 16 from the marketplace.
Each class features a minimum of six wines and three cheeses. Each participant will receive a tasting ticket for a taste of a gold medal winner from the Los Angeles International Wine & Spirits Competition, available at the International Tasting Bar. The cost per class is $17. See a complete list of classes here.
At the Wine & Spirits Marketplace, taste more than 300 medal-winning wines, spirits, beers and extra virgin olive oils. It's a great place to hang out with friends, get a bite to eat, relax in air-conditioned splendor or have a seat in the beautifully decorated patio.