Here's some Shark Encounter info from our writer Xander.


Dun-Dun!  Dun-Dun!  An audience sits on the edge of their seat, the churning rhythm of the sound track from "JAWS" playing at full volume as a light mist forms around the stage.  The audience tightens in anticipation as the hydraulic door lifts, unveiling the 5,000-gallon tank and…..SHARKS!!!
With Shark Week in full swing on the Discovery Channel, it seems like a perfect time to talk about one of the Fair's most exciting attractions this year, the pulse-pounding Shark Encounter.  Across the globe, sharks have captured our imagination for thousands of years, stirring the fears of ocean goers and scientists alike.  With fear a fever pitch due to this week's array of shark attack programming on Discovery, the importance of understanding this fascinating species is critical for its survival, and possibly our own!  If you're anything like me, and you now want to get an up close experience with these awesome beasts, then you're in luck, because that's exactly the kind of opportunity you have at this year's L.A. County Fair.
Partnering with Haai Inc., the experienced divers and scientists will be putting on two exhibits and a heart-pounding live show which will run for the duration of the fair.  At the live show, following a captivating discussion on shark facts and fiction, a diver will plunge into the tank and swim with these impressive animals.  After the show, the audience can breathe a huge collective sigh of relief as the diver returns to the surface, unharmed.  At this point, brave members in the audience are welcome to come up on stage and stare down a real live shark! The "stare down" is of course from behind a separating pane of glass for safety reasons, but wow, what a rush!
Ever wanted to get up, close and personal with a Great White shark? First of all, you might be crazy, but who are we to judge?  And at Shark Encounter at the L.A. Fair you can have your chance at The Great White Encounter Exhibit.  This engrossing exhibit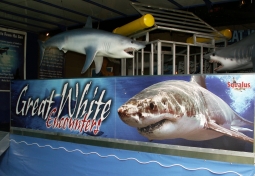 offers fairguests a unique opportunity to step into a shark's world, and see a life size replica of a great white shark, as well as several other interesting species.  Want to know what a shark really eats? Guests have the exclusive opportunity to see items that have been found inside a real-life shark's stomach!  The exhibit also features a real shark cage, varying sizes of shark teeth, fossilized teeth, and a replica set of jaws from a prehistoric Carcharodon Megadon shark – just a head's up, this is one impressive and frightening set of dentures!  The Exhibit also features an array of stunning photos, educational materials, and an exhilarating video where visitors can learn more about these giant and deadly fish.  This is an once-in-a-lifetime experience that you won't want to miss!
In addition to the amazing shark exhibits and shows on display, the Fair will also feature the Under the Sea Adventure Exhibit, where visitors can learn more about other fascinating creatures that reside in the depths of our oceans. Are you interested in underwater invertebrates (animals without backbones)?  Our tide pool touch tank features an array of aquatic life, like starfish, crabs and sea urchins, which you can admire and examine for yourself. Participate in a variety of fun, hands-on activities that are not only educational, but fun as well!
Finally, when you're exhilarating shark experience has concluded, head over to the Shark Shack Souvenir Shop to check out their cool and unique array of memorabilia.  Pick one up for yourself, so you can always remember the great fun and heart-pounding excitement of the LA County Fair's Shark Adventure!
The Live Shark Shows will take place Wednesday-Friday at 2, 5 and 8 p.m. and on the weekends (and Labor Day) at noon, 2:30, 5:30 and 8 pm.  Hours for the Great White Encounter Exhibit are as follows: Saturday and Sunday, September 3 – 4 only: 10 a.m. – 11 p.m., Labor Day: 10 a.m. – 10 p.m., Saturdays: 10 a.m. – 11 p.m., Sundays: 10 a.m. – 10 p.m., Wednesdays & Thursdays: noon – 10 p.m., and Fridays: noon – 11 p.m.
Please note that the Great White Encounter Exhibit will be closed during the Live Shark Encounter shows, and that show times are subject to change.
For more information on the Shark Exhibit, or the Fair in General, head on over to www.lacountyfair.com.  If you want more information on Haii Incorporated and their experienced dive team, then click here: http://www.haai.net/index.htm.