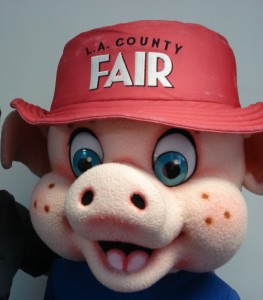 Hi Thummer! How are you doing today?
I'm doing well, thanks. I'm just so busy lately taking care of everything before the Fair starts…can you believe it's basically a couple of weeks away?
I know! This summer has been so fast. Anyway, our readers want to know about you. What can you tell me?
Well, I'm a simple pig, really. I've been around since 1948, I like to wear hats, my favorite Fair food is either corn on the cob or deep fried Oreos…
Really? Deep fried cookies?
Don't knock them until you try them. But Oreos by themselves are pretty good as well. My little piglet brothers and sisters totally know what I'm talking about – they race for them during the fair.
Aren't those bad for your cholesterol?
Well, I'm in pretty good shape for a pig that's over 60. I exercise a lot and have lots of fruits and vegetables from the Urban Garden. And I only really treat myself during Fair season. Oh, and I love to run. Running keeps me cheerful.
What's your favorite part of the Fair?
Of course, it's FairView farms. It's where I hang out the most, really — it's great to meet all the kids, pet all the goats and learn all about milking cows. But I also really like the Our Body: Living Healthy exhibit. Who knew that learning about how the body works could be fun?
Okay, Thummer. Last question: how did you get your name?
A long time ago, a local TV station put on a "name the pig" contest. "Thummer" was the entry I liked the most, so that's where it comes from.
Thanks for your time, Thummer.
No problem, I'm always glad to help! I'll see you at the Fair. And remember, you can always visit lacountyfair.com to find out when I'll be at FairView Farms.