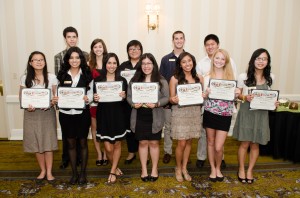 It's a leadership program for excellent juniors and seniors of partner high schools. They meet monthly, organize service initiatives, work on special community projects and serve as leaders in their neighborhoods. Each member also receives a scholarship and an opportunity to work with the Fair's many facets.
Ever since the first board met in 2004, the JFB has worked closely with the Los Angeles County Fair Association to create a new generation of business-minded and community-conscious influencers.
Rising senior Stephanie Sanders is a member of JFB as well as our intern here in the Communications department. You've probably already read all about her experience at the Vans Warped Tour.
We got a chance to pull her away from work for a bit and interview her about her experience so far.
How did you hear about the JFB?
There was an application for it at my high school counselor's office, so I gave it a try.
What do you do here at your internship?
I help out with all the technical stuff here in the office, like photos and computers. I also do lots of research for the department and do blog outreach for local events.
What else do you do with the Board?
Well, we do two major service projects – one in the fall and one in the spring. This last spring, I worked with Shoes That Fit, a charity that helps out kids in need. We had a sock drive at my school – there were a lot of socks!
What's your favorite part about being on the Board?
Our opinions are heard. We make the Fair better with our feedback. But really, I really like helping the community. It's really rewarding.
And of course, what are your favorite things about the Fair?
Oh, the rides, definitely. And Hot Dog on a Stick.
To learn more, support and apply for the JFB, click here.
Have a great Monday, all!