In order for you Fair fiends (hey, Gaga has Little Monsters, the Fair-ey Blogster has Fair Fiends) to get an idea of how we transform our 543-acre grounds into the world's largest county fair, I'm going to share some transformation photos with you. While the conceptualizing and planning of each Fair begins a year or two or three in advance, the physical metamorphosis is a process that begins in earnest right about now – two months out. Since we have other shows going on at Fairplex up until close to the Fair's opening, there is limited time to get our construction groove on. Sure, our team does what they can throughout the year to get ready for Fair. But, now, it's Crazy Time! Take a look at the before: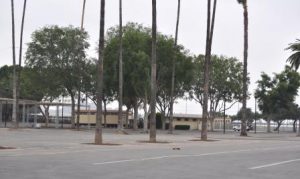 The center of the grounds. In 66 days, this area will be filled with the thrills and adrenaline of Ray Cammack Shows' great carnival. Right now it's an empty space, although last Saturday it was used for FUN Decanted, the great wine, beer, spirits and food truck festival we had. The carnival area was moved closer into the heart of the fairgrounds last year. All shopping was moved to the Shopping Place, which guests really enjoyed – all shopping in one location. This year we'll have 50 new vendors and more than 100 new products, including the Blizzie, which turns any drink into a slushy!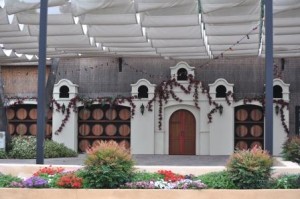 To your right here is the facade of the Wine & Spirits Marketplace. Looks pretty cool, huh? WSM houses the Fair's wine education program, including tastings of our award-winning wine, beer and extra virgin olive oil and classes with some of the best wine experts in the world. It's a great place to hang out for a bit, with gourmet food and Dr. Bob's Ice Cream available inside.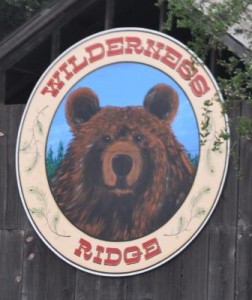 Wilderness Ridge will allow our guests to explore the Great Outdoors. Here you'll find lumberjack shows, Grizzly Falls and the new Welde's Big Bear Expedition with live bears!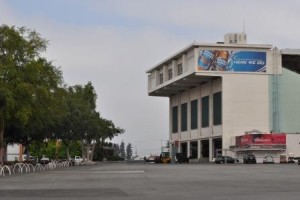 Looking north on Broadway. The Grandstand awaits horse racing and the End of Summer Concert Series. Outdoor Living will be on the left of Broadway with all the amenities for making your backyard great (spas, bbqs). The Sky Ride will take visitors on a leisurely romp up and down Broadway and Palm.
There is still much work to do. Return for some more "before" photos as the excitment builds (literally!) to Opening Day. Then visit the Fair Sept. 3-Oct. 2 and take your own "after" pix.