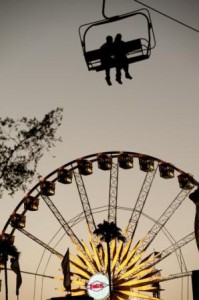 A big round of applause to everyone who attended the 2010 L.A. County Fair! It was a huge success with 1.37 million guests – up from last year. We had a ton of fun with Mojo the monkey, the giant dinosaurs, the food, the shopping and all the animals in FairView Farms. Our Body: The Universe Within was an amazing success! And we said good-bye to the Giant Slide.
All the totals aren't in yet but here are a few general Fair tidbits:
130,000 – Souvenir Bottles
2,000 pounds Deep Fried Frog Legs
8,000-Deep Fried Avocado
12,000-Deep Fried Twinkies
40,000-Deep Fried Oreos
68,000 -Hot Dog on a Stick
82,567 – cups of Lemonade
Wow! Hope you enjoyed it all!
We'll see you back next year – Sept. 3 – Oct. 2.