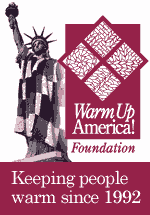 Knitting and crocheting fans donated more than 1,000 blocks to this year's "Warm Up America" project at the Fair. For more than a decade, thousands of 7"x 9" knitted or crocheted blocks have been collected by Fair volunteers to assemble into beautiful afghans and distributed to homeless shelters all over Los Angeles and Orange County.
Sixteen blocks were assembled into each individual afghan, to create more than 60 blankets. Volunteers, including the three pictured here – Yolanda Mahler of Los Angeles, Edda Broderick of Claremont and Janice Ogata of La Crescenta – who worked in the Knitting Lounge located in Tapestry on the project.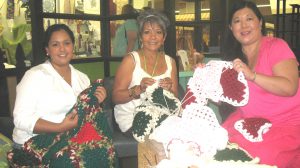 Volunteers also taught crocheting and knitting to Fairguests who stopped by the Lounge – an inviting, homey, living room of creativity. In fact, said Broderick, not only afghans have been "built" at the Fair, but so do friendships that continue year-round.