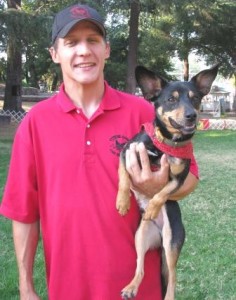 Last year at the Fair, a little black and auburn rat terrier/corgi mix puppy sat in the pet adoption area of Bark Park looking longingly at the talented dogs performing death-defying dog tricks at the Extreme Canines Stunt Dog Show across the lawn. This year, he is doing some of those tricks himself.
Zip, as he is lovingly known as now, was adopted at last year's Fair by the operator of Extreme Canines. He has been in training the last eight months and performs regularly in the shows.
"He does the triathlon race for the red team," said trainer Trish. "He is the rookie dog who challenges the veteran dog."
Zip's trainer, Brian, has been slowly teaching Zip. Brian and Trish had kept their eyes on Zip at last year's Fair, thinking he would be a perfect extreme dog. "He loved his toys," said Brian. "We look for dogs who are obsessive/compulsive with their toys."
Zip has been a welcome addition, buddy-ing up to the seven other dogs in the show. He is known as the big kisser for his affection toward his pals.
Zoomin' Zippy – he never relaxes, according to Brian – is expected to be in the Frisbee portion of the show next year.
Congratulations to Zip for finding his forever home and a big thanks to the Extreme Canine Stunt Dog Show for seeing the potential in that little pup.