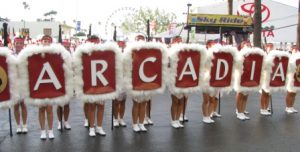 First-time participants Arcadia High School took the grand prize in the L.A. County Fair's 8th annual High School Band Competition, not only winning $5,000 but a spot in the 2012 Tournament of Roses Parade.
"This is very exciting. We've spent several weeks getting ourselves organized," said Tom Landes, who directs the Arcadia band with Kevin Sherrill. "This is our first time here at the L.A. County Fair, so we didn't know what to expect."
Taking second place and $3,000 was Kaiser High School in Fontana. Diamond Rancho High School in Pomona received third place and $2,000.
Judges from the Tournament of Roses chose the champion. " Arcadia's musicality was great, their precision was fantastic. And their marching was wonderful for the Rose Parade," said Alex Aghajanian of the TofR music committee.