No, it's a canned food drive – and, yes, you can come! This is the best drive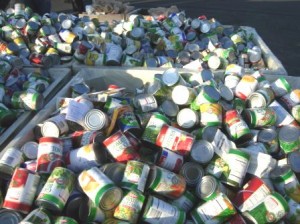 we've ever had! Tomorrow is the last Ralphs Food Drive Friday at the Fair. Grab your five cans of Ralphs private label canned products and get into the Fair from noon to 6 p.m. for FREE. Plus, you get to serve your community and help those in need.
With one Friday still to go, we've already exceeded the total amount of cans collected last year. In 2009 we collected a little more than 60,000. As of last Friday, we've collected 66,318. All canned food is going to the Los Angeles Regional Food Bank for distribution to families in need. This is a total win-win opportunity.
Thank you to all our Fairguests who participated in the Ralphs Food Drive Fridays and to the staff and volunteers of the Fair who worked behind the scenes to get it all done.
See you tomorrow with cans in hand!