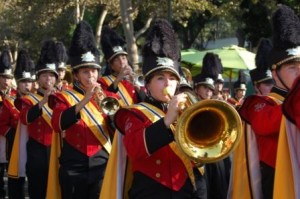 Band geeks (and I mean that with love. I include myself in that group) – drumline yourselves out to the Fair tomorrow for the finals of the High School Band Competiton. This is mighty, mighty exciting as Fontana's Kaiser High, Pomona's Diamond Ranch High and Arcadia High School compete for $5,000, one tuba-sized trophy AND a spot in the 2012 Tournament of Roses Parade!!! Woo hoo! Take that drill and step off!
All three bands will perform in the Fair's parade at 5 p.m. where they will be judged by a panel from the Tournament of Roses. The bands will congregate in front of the Millard Sheets Center for the Arts around 5:30 p.m. where the winner will be announced. They will perform at that location if time permits.
The second place winner will receive $3,000 and third place will receive $2,000. This is always an exciting evening so come out and root for one of these three great bands!!