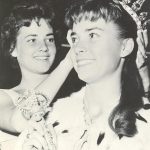 Sept. 1 is particularly significant to Carolyn Bushnell of Glendora. First, it's her birthday; second, it was the day she was crowned Queen of the L.A. County Fair in 1960. Her sister Barbara, named Miss San Gabriel Valley that summer, was also a princess in her court. Bushnell was crowned by then-California Governor Pat Brown.
She was 20, and it was the first beauty pageant she ever entered, and would become the last.
Some 900 women from Mt. San Antonio College in Walnut competed for the honor. The first step was a vote by the college's student body to narrow the field down to 14 finalists who would then become the queen and 10 princesses.
"It was a huge thing in the Valley," she recalls, not too dissimilar from Pasadena's Tournament of Roses Queen and her Court. "We were chosen at the beginning of June and then through the summer we did a lot of publicity about the Fair."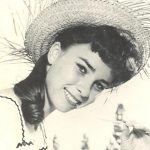 The 14 contestants were interviewed by a panel of judges drawn from the television and radio industry. "We had lunch with all those people and were dressed to the nines, with hats and gloves," she says. "And then we were interviewed one-on-one with the judges." She especially notes there was no swimsuit competition – "They judged the 'inner beauty' of the contestants to determine who would do best in interviews." 
There was a special photographer assigned to the Fair Queen and her court, capturing on film all their promotional activities. There were plenty of photos of her and the princesses with farm animals, fruits and vegetables that represented the county's agriculture – and of course, there's one of Bushnell milking a cow.
The Queen also graced the Fair's weekend parades, riding in an open carriage drawn by four beautiful horses, with liveried horsemen at the reins. The court rode in convertible cars preceeding the Queen's coach. Though there is no queen and court now, parades still march through the Fair each day.
Her poise as Fair spokesperson may have led to her career teaching public speaking, along with physical education at Santa Maria High School, Torrance High School and South Torrance High School. She won a Fulbright Scholarship and taught at Bramalea Secondary School near Toronto, Canada.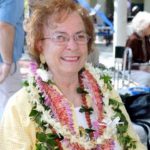 Today Bushnell does analytical research for commercial real estate property. She was vice president of the U.S. commercial real estate division for Home Savings, was appointed by President Bill Clinton to the National Advisory Council for The Small Business Association on which she served for six years, and is listed in Who's Who of International Professional Businesswomen, Who's Who of American Women and Who's Who of Women.