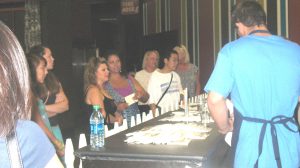 One of the most anticipated Culinary Styles contests brought out chocolate lovers of all ages on Saturday, Sept. 18 – the Ghirardelli Chocolate Champion Contest.
The scent of rich chocolate – dark, milk, white and every variation thereof – filled the contest area as competitors delivered precious choco cargo before judging started at 1 p.m. There was a definite buzz of anticipation as passersby stopped not only to observe the judging but to simply inhale.
Thirty-three contestants turned out, bringing a wide variety of treats – cakes, mousses, cookies, cupcakes, brownies, tortes, candies – to challenge any expert to choose first-, second- and third-place winners.
Winning entries were a diverse lot – mousse, cookies, cakes – offered by contestants from near and far.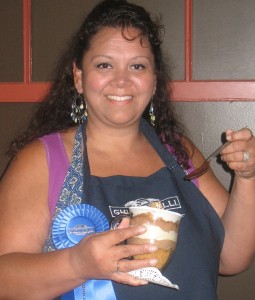 Chino resident Kathleen L. Cable's S'more-iffic Cup of Ghirardelli Chocolate Mousse won the First Place ribbon, $150 and a Ghirardelli Gift Basket. In addition to the "great blend of flavors" the judges praised Cable's presentation as "worthy of a gourmet magazine." Her s'mores inspiration was complete with a toasted marshmallow topping each mug of rich mousse to be enjoyed by accompanying chocolate-dipped spoons.
Fullerton resident Kevin N. Haw's Triple Chocolate Mousse Cake won Second Place, $50 and a Ghirardelli Gift Basket. The judges enjoyed each layer of texture from the bottom up: chocolate cake, chocolate mousse and white chocolate cream cheese.
North Hollywood resident Gigi D'Amore's Dark Chocolate Chipotle Cookies won Third Place. Judges noted her creation's "great cookie texture" and the chipotle "heat creeps up on you" for good flavor.
Heather Moloian of Thousand Oaks earned an honorable mention with her Pecan Chocolate Roca Torte that judges enjoyed for its toasted nuts and toffee.