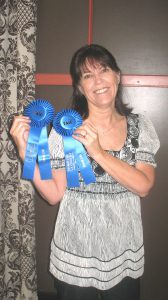 Gayle Bauer of La Verne literally took home the whole enchilada, winning the Best Enchilada Recipe contest at the 2010 L.A. County Fair. She won 1st place in both the chicken and vegetable enchilada categories.
The Culinary Styles judges particularly praised Bauer's Chicken Enchiladas for the creamy texture achieved from her blending of whipping cream and chicken bouillon for the sauce in which she dipped tortillas.
Her Surprise Vegetable Enchiladas did indeed have a surprise ingredient – tofu. The tofu was sautéed until golden brown, then combined with onion, zucchini cubes, black olives, corn, cilantro and cheese for the delectable filling.
Juliet Murphy of Fontana won second place in the chicken enchilada contest with her Chicken Relleno Enchilada. Rellenos of shredded chicken, mozzarella cheese and chopped black olives wrapped in pasilla chiles were then rolled into tortillas dipped in green enchilada sauce.