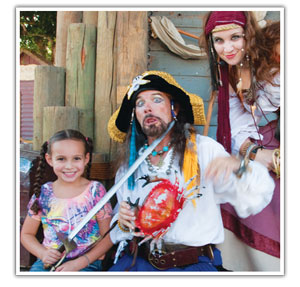 International Talk Like a Pirate Day is Sunday, Sept. 19 and what better way to learn about all things pirate than at our own A Pirate's Life – An Island Adventure.
Eight years ago, columnist Dave Barry mentioned this "holiday" created by John Baur (Ol' Chumbucket) and Mark Summers (Cap'n Slappy), of Albany, Oregon, September 19 each year as the day when everyone in the world should talk like a pirate. You can brush up on your skills by visiting their website.
Better yet, head out to see the Fair's buccaneers who have hitched their sails behind The Shopping Place – a fine place for plunder, aye matey? These scallywags will shanghai you into swashbuckling surprises and suspense.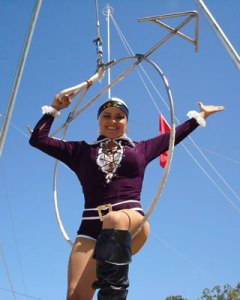 A battle of wills is taking place in the sky above A Pirate's Life as two bands of bandits – Pirates of the Sky and the Caribbean pirates – try to claim the title of King of the Pirates. High-flying privateers swing from the sway mast of a 60-foot-high pirate ship to the Pirate Skull Wheel of Death. You can catch all the death-defying action at 2, 5 and 8 p.m. Sunday. They also perform Wednesdays-Thursdays at 2, 6, and 9 p.m.; Fridays at 2, 6, 8, and 10 p.m.; and Saturdays at 2, 5, 8, and 10 p.m.
Join the high-flyin' fun on the pirates' aerial adventure zip-line for a nominal fee. You'll fly 150 feet through the air and 24 feet above ground as you attempt to avoid the dangers of a pirate takeover.