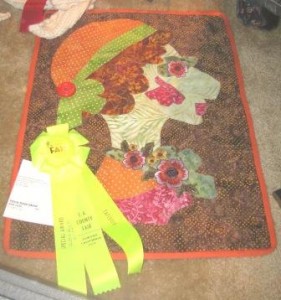 Tova Dian Dean is serious about her quilting. So much so that the San Jose resident entered seven of her quilts in our prestigious quilt competition and drove seven hours last night with her two 4-year-old twins in tow to see her quilts on display at the opening of the Fair today.
Good thing she did. One of Dean's quilt panels won the Gloria Molina Achievement Award in Quilting. The award is named after L.A. County Supervisor Gloria Molina, a quilter herself!
Dean is a former resident of the Inland Valley. Her two sisters live in Claremont and Pomona. This is the first time Dean has entered her quilts in a competition. "My sister wanted me to enter. I usually just give my quilts away," she said. Dean said she finds the art of quilting relaxing.
You can see her work and others in the Tapestry exhibit.