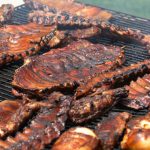 Culinary Styles kicks off the 2010 contest season Sunday with the much-anticipated Best BBQ, BBQ Sauce and Chili contests. Just follow your nose to the Big BBQ Ranch at Wilderness Ridge by noon to see all the action.
The Best BBQ Sauce Contest with eight contestants starts at noon with judges rating sauces on taste, appearance, overall appeal and texture to award the 1st place Rosette and $25 and Rosettes for 2nd and 3rd places.
Next up is the Chili Cook-Off at 1 p.m. when seven competitors vie with recipes for bold, Tex-Mex, meaty, veggie and others for the 1st place Rosette and $25 and Rosettes for 2nd and 3rd.
The Best BBQ Contest wraps up the day at 2 p.m. when judges will evaluate recipes for fish, pork, beef and poultry submitted by 16 competitors. They'll be looking for flavor, tenderness and juiciness, the use of side dishes cooked on the grill to complement the main entrée, and the overall table theme. They'll also ask contestants about the preparation of the entrée, side dishes and general knowledge of equipment. Prizes are 1st Place – $100 and Rosette, 2nd Place – $75 and Rosette, and 3rd Place, $50 and Rosette for all meat classs, and the Best in Show winner will take home a Rosette and $300.