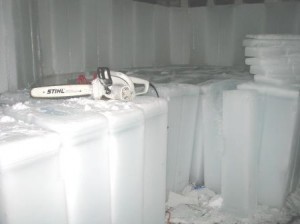 Arctic-level temperatures will greet Fairguests when our gates open this Saturday. It's not thanks to the weatherman but too a new exhibit – LA in Ice…a frozen attraction. The show will feature a number of amazing ice sculptures showing famous L.A. landmarks and icons – like the Hollywood sign.
The exhibit is in Building 5 and is located in a giant freezer. As I entered it today to look around, all I could think of was the episode of I Love Lucy where Lucy gets locked in the meat freezer in her basement. With all our safety precautions, that can't happen here. But the enclosure does look like a giant freezer. It's $1 to get in and with that you get a blanket because it is COLD in there!
The photo above shows the blocks of ice before being carved into the artistic structures they will become. Notice the chainsaw – some use brush & palette, some use charcoal – chainsaw is the tool of choice for ice carving.
Artist Roland Hernandez will be on site to demonstrate just how adeptly he can wield a chainsaw.
See you in 63 hours.